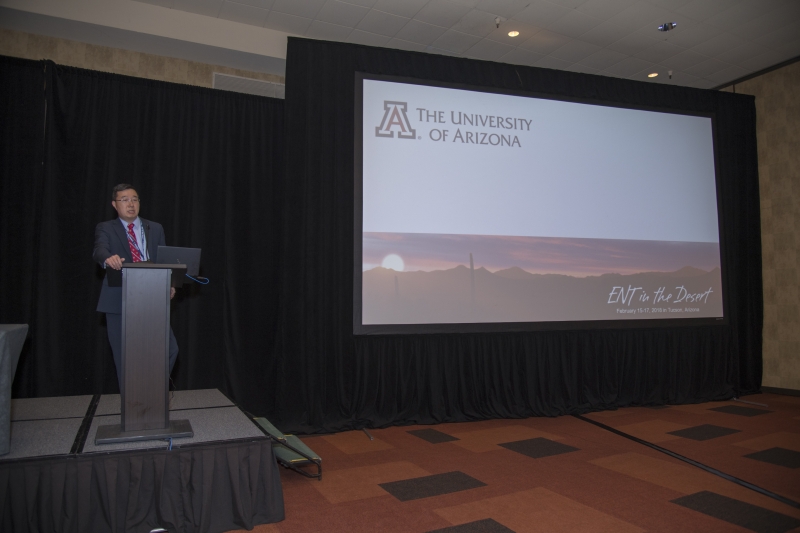 Held amid stunning views of the Catalina mountains in southern Arizona, the 6th Annual ENT in the Desert conference highlighted insights, updates and innovations in the field of otolaryngology. More than one hundred general otolaryngologists, residents, physician extenders and primary care physicians interested in otolaryngology convened at Loews Ventana Canyon Resort in Tucson from Feb 15 to 17 for the conference, which was presented by the University of Arizona Department of Otolaryngology – Head and Neck Surgery.
Experts from UA Otolaryngology faculty and across Arizona joined other nationally and internationally renowned guests from such distinguished institutions as Stanford University in California and Shimane University in Japan. General topics covered by the close to three dozen lectures and interactive panel discussions included Head and Neck Surgery, Laryngology, Otology, Pediatrics, Rhinology/Allergy and Sleep Medicine.
"In general, we see this conference as an opportunity to provide updates on management of various ear, nose and throat problems that are likely to be encountered by the typical practitioner," said Steven J. Wang, MD, FACS, Professor and Chair for UA Otolaryngology – Head and Neck Surgery. Dr. Wang wanted the conference to encourage interaction by presenters and guests during presentations and outside of the daily sessions. "Providing those latest updates, as well as meaningful interactions, were things I wanted to make sure that we accomplished this year. I felt we did."
Distinguished Faculty for the conference included Steven W. Cheung, MD, University of California – San Francisco; Mark S. Courey, MD, Mount Sinai Health System, New York, NY; Peter H. Hwang, MD, Stanford University; Brian Nussenbaum, MD, FACS, American Board of Otolaryngology, Houston; and Soham Roy, MD, FACS, FAAP, University of Texas Medical School, Houston.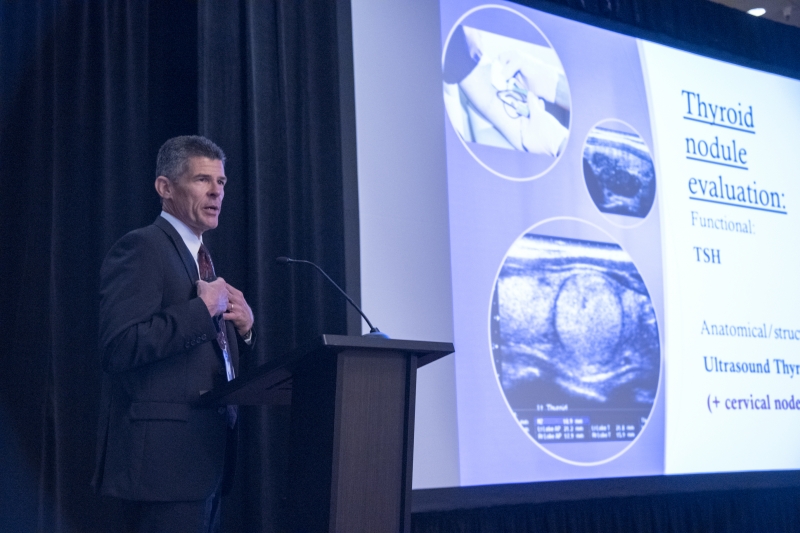 New Technologies to Improve Patient Care
"ENT in the Desert 2018 highlighted cutting-edge research and new medical and surgical therapies for Otolaryngology diseases and a fantastic team of nationally known guest speakers in a beautiful setting in Arizona," said Eugene H. Chang, MD, FACS, Director of UA Otolaryngology's Rhinology program and Associate Professor of Otolaryngology. Along with Dr. Wang and Stephen A. Goldstein, MD, FACS, who serves as director of UA Otolaryngology's Facial Plastic Surgery Program, Dr. Chang is one of the Course Directors for ENT in the Desert.  "Our focus this year was highlighting the integration of new technologies to improving patient care."
The diversity of disciplines that exist within Otolaryngology naturally presents a challenge when it comes to organizing such a conference.
"Here in the university most of our faculty specializes in one thing, so they may exclusively only see kids with ENT problems or specialize in the        voice or specialize in nose and sinus disease." said Dr. Wang. "In my case, I specialize in head and neck cancer. For the typical general ENT doctor in private practice, they may see all sorts of those problems."
Subject matter in the presentations ranged from "Thyroid Nodules: When to Operate?" to "Management of Chronic Cough," from "Tinnitus Management" and "Frontal Sinus Surgery" to Dr. Wang's comprehensive presentation on staging systems for head and neck cancers.
"Cancer staging is not something that changes very often, and yet that was something that changed just this year in a pretty significant way," said Dr. Wang, who also spoke on the role that new technologies such as trans-oral robotic surgery can play in head and neck cancer care and improve functional outcomes. "It's an example of how we see this conference as a way to share with our fellow ENT practitioners some of the latest updates and changes in the field."
Innovations in Rhinology
Sessions focusing on improvement and innovation in clinical practice in rhinology included a presentation by Stanford's Dr. Hwang on new treatment for vasomotor rhinitis otherwise known as "constant drippy nose." There was also a joint presentation by Dr. Chang along with fellow UA rhinologists Christopher Le, MD, and Brian Song, MD on the management of challenging cases of recurrent polyposis, benign and malignant sinonasal disorders and on methods to improve patient communication and overall satisfaction.
For rhinology experts, a unique offering that promoted personal participation was a cadaver dissection workshop. "The cadaver dissection course allowed participants the chance to put their surgical skills to the test and gain hands-on experience with the latest and greatest surgical tools and technology," said Dr. Chang. The dissection workshop was made possible by Olympus America Inc., ENT in the Desert's platinum conference sponsor. Also essential to the conference's success were gold sponsors Acclarent Inc. and Medtronic and a diverse array of other sponsors and exhibitors who provided guests with access to cutting-edge products and services relevant to ENT care.
ENT Excellence through Certification
Dr. Wang was determined that the conference would address a sometimes-controversial issue, certification of professionals by the American Board of Otolaryngology.
"One of the issues that's facing not just our otolaryngology field but many other specialties in medicine, specifically in the United States, is how do we ensure the public that physicians are appropriately skilled, trained and certified in the specialty which they practice?" said Dr. Wang.
The American Board of Otolaryngology's executive director, Dr. Brian Nussenbaum, spoke about the importance of certification, which utilizes objective, third-party verification to determine if a physician has demonstrated proficiency in a particular specialty based on professionally-set standards. To maintain active board-certification, physicians must participate in a process called Maintenance of Certification which allows them to demonstrate to patients, hospitals, and colleagues that they have kept up with the latest medical advances in their field and maintained their knowledge-base.
Another issue addressed by Dr. Nussenbaum at the conference was the dreaded scenario of wrong-site surgeries. "We, as otolaryngologists, need to be very vigilant and put protocols in place to make sure that errors that shouldn't happen do not happen," said Dr. Wang.
Dr. Soham Roy of the University of Texas spoke on taking steps to prevent another alarming scenario, fires in the operating room. Such fires may not happen often, but surgeons and staff need to be aware of the fire dangers that are ever present in the OR environment. "You have oxygen, which we know is a fuel source for fire," observed Dr. Wang. "And many of the instruments that are used for surgery which rely on heat or by electricity can trigger fire." Because surgery in otolaryngology often requires those volatile elements to be brought together in close proximity to a patient's face, disastrous consequences are possible. Dr. Roy's remarks focused on taking steps to ensure a safer operating environment for patients and doctors.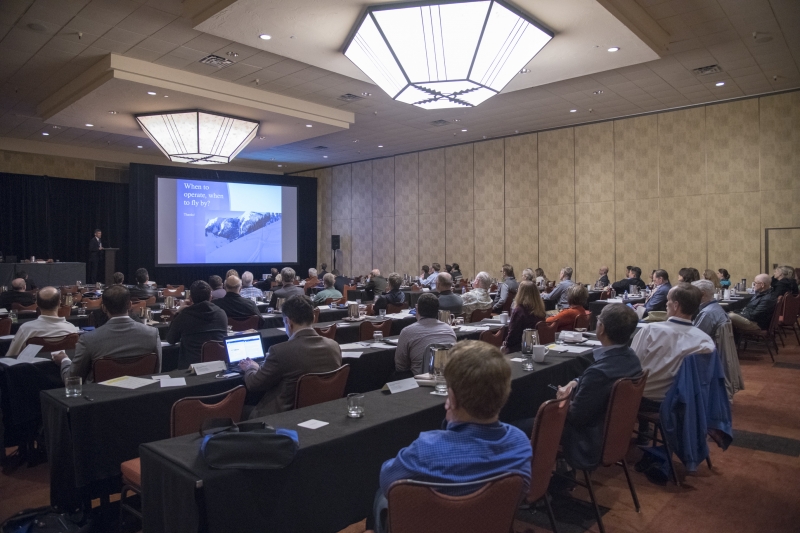 Looking Ahead to 2019
With its breathtaking mountain and desert vistas, Loews Ventana was chosen five years ago as the perfect winter getaway for conference guests by  Dr. Alexander G. Chiu, M.D., Founding Chair of the Department of Otolaryngology-Head and Neck Surgery at UA, now at University of Kansas.
Next year, UA Otolaryngology and University of Kansas will combine forces on ENT in the Desert, with Drs. Wang and Chui co-hosting. The conference will take place Jan 31-Feb 2, 2019, this time in Scottsdale, a move that will retain the desert setting but, thanks to proximity to Sky Harbor Airport in Phoenix, make travel easier for many visitors. (Visit entinthedesert.org for more information.)
For Dr. Wang and his colleagues at UA Otolaryngology, the most rewarding feedback is seeing guests return year after year. "We have many repeat participants," said Dr. Wang. "Whether they're coming from Arizona or elsewhere, it's an excellent opportunity for many to get their continuing medical education in ENT. I think that's been the reason for our success over the last six years."
Publish Date New:
Wednesday, March 21, 2018 - 09:00