Overview of Fellowship
Dr. Eugene Chang and Dr. Chris Le lead the Division of Rhinology and Anterior Skull Base Surgery. Adjunct faculty members include Dr. Michael Avery (Neurosurgery), Dr.Tara Carr (Allegry/Immunology), Dr. Puneet Shroff (Allergy/Immunology), and Dr. Nora Odisho (Allergy/Immunology). The one-year fellowship offers tremendous opportunities in the clinical and surgical management of complex inflammatory sinus disease, benign and malignant tumor surgery, and anterior skull base trauma with endoscopic and open skull base approaches. We are a tertiary specialty center with a statewide referral base, and our caseload is over 300 cases per year. In the majority of these cases, the fellow will be the primary surgeon due to the high ratio of faculty: residents in our program. Dr. Chang was on faculty at the University of Iowa for five years, and is one of the few NIH-funded surgeon scientists in Otolaryngology. Dr. Le trained at UC Davis for residency and joined the University of Arizona after fellowship. Both faculty stresses the importance of mentorship, and every effort will be made to maximize the fellow's educational experience.
University of Arizona Rhinology Fellowship Video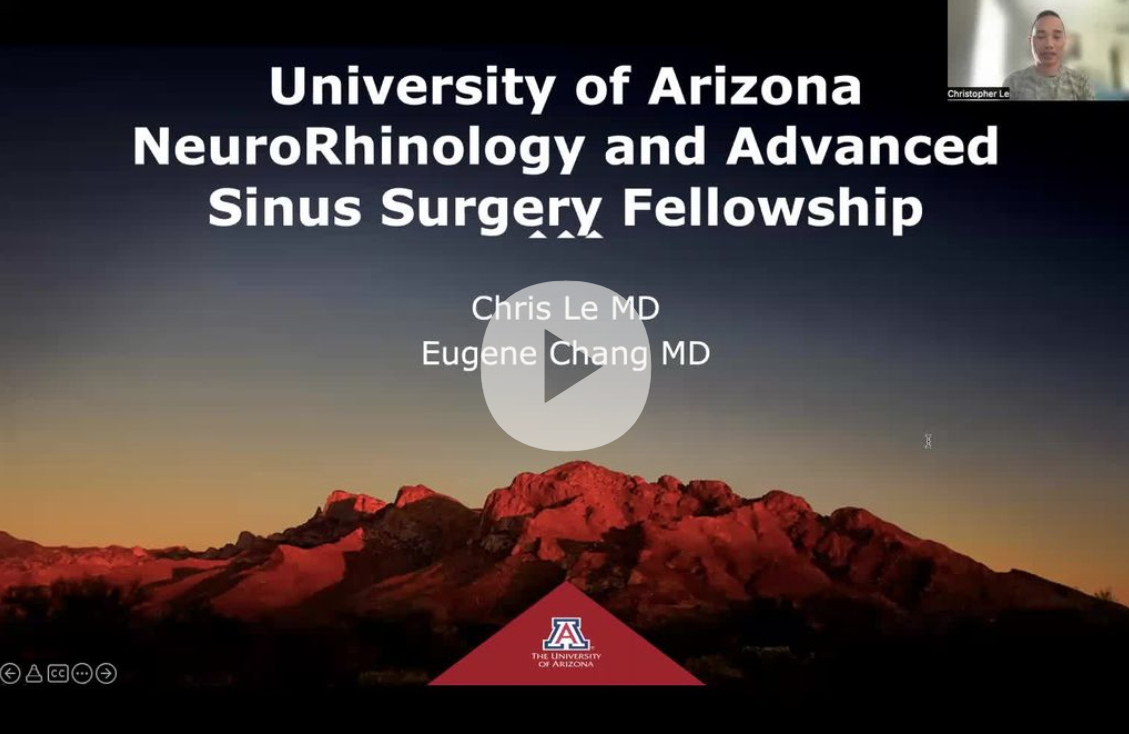 ---
Sub-specialty Collaboration
Due to the complexity of patients managed at University of Arizona, fellows collaborate with multiple specialties including: Neurosurgery, Allergy-Immunology, Neuro-radiology, and Pulmonology.
Neurosurgery –The fellow plays an integral role within the skull base neurosurgery-otolaryngology team for the management of complex skull base pathology, which includes transsphenoidal pituitary surgery and endoscopic and open anterior skull base surgery for benign and malignant lesions and CSF leak repair. Collaborative surgeries are performed on average 3 days per month. Fellows also interact with neurosurgery faculty and residents in the clinic setting reviewing cases, discussing workup and developing treatment plans.
Allergy-Immunology – The fellow works intimately with Allergy-Immunology faculty and fellows in the clinical care of complex CRS patients. The fellow is also active in the education of Allergy-Immunology fellows during their rotation within the Rhinology department. This interaction is reciprocal, the fellow has the opportunity to rotate with the allergy-immunology service as a rotation. We are also a center for joint clinical trials – and are currently assessing the impact of omalizumab on patients with CRS with nasal polyposis.
Neuroradiology – University of Arizona has a robust neuroradiology presence. Imaging of complex sinonasal and anterior skull base cases are reviewed one-on-one with neuroradiology faculty and at Tumor Board conferences. Additionally, the fellow works with the neuroradiology faculty on collaborative research projects.
Pulmonary Medicine – We interact with pulmonologists in those with severe asthma, lung transplant workup, and those with cystic fibrosis. Cystic fibrosis patients are of particular interest for Eugene Chang MD in a research and clinic setting.
---
Goals
The purpose of this fellowship is to train the next generation of academic rhinologists. We offer mentorship and opportunities that will give graduating rhinology fellows a niche to develop into leading academic faculty members. These opportunities include:
Clinical and Molecular research: We have a NIH-funded sinus research laboratory available, clinical research coordinator, IRB coordinator, sinus tissue biobank, inflammatory and sinonasal tumor outcomes databases, and 3-D sinus imaging protocols to provide opportunities for productive research. One of our responsibilities is to mentor in grant / manuscript writing. Dr. Chang has vast experience in this area with NIH-funding at the K08 and R01 level.
Virtual and mixed-reality surgical simulation: we have developed the first neurorhinologic mixed-reality surgery system encompassing virtual dissection, surgical simulation, and virtual coaching.
Collegial atmosphere: Fellows will also work closely with our adjunct faculty in order to develop expertise in neurosurgical, reconstructive, and allergy/immunology experience.
Resident teaching: Fellows will have opportunities for teaching residents in didactic, clinical, and operative environments.
---
Case Log
Case Category
Number of Cases

APPROACHES FOR SKULL BASE SURGERY 

Endoscopic trans-sphenoidal approach
Endoscopic trans-planar approach
Endoscopic trans-cribriform approach
Endoscopic trans-clival approach
Endoscopic trans-pterygoid approach

100

RESECTION OF SINONASAL TUMORS 

Benign tumor resection (open/endoscopic)

Malignant tumor resection (open/endoscopic)

  

60

SKULL BASE RECONSTRUCTION 

CSF leak/Encephalocele/Skull Base Trauma
Skull base reconstruction after resection of neuro-rhinologic tumors

60

ADVANCED RHINOLOGIC SURGERY 

Extended Frontal Approaches
Osteoplastic Flap Approach
Endoscopic DCR
Endoscopic Orbital Decompression
Endoscopic Intraorbital procedures
Endoscopic medial maxillectomy
Choanal atresia repair
Endoscopic Mega-antrostomy
Sphenoid nasalization
Other

100
STANDARD FESS
150

CRANIOMAXILLOFACIAL TRAUMA

Frontal sinus fractures
Mandible fractures
Mid face fractures
Orbital fractures
Skull Base fractures

20
---
Fellowship Description
Clinical Rotations
The fellow will work with Drs. Chang and Le in the operating room and clinics. For 4 weeks of the year, work in the allergy clinic will be part of the working week.
Weekly Schedule
The fellow will work with Dr. Chang and Dr. Le in clinic for 2 days, be in the operating room for 2 days, and have one academic day for clinical or basic science research. The fellow will have a half day independent clinic in the second half of the fellowship year.
Research Responsibilities
The fellow is expected to complete at least 1 research project in which a manuscript submission is performed and is expected to attend and contribute to weekly research meetings.
Call Schedule
The fellow will be placed in the attending call schedule to cover general Otolaryngology call and maxillofacial trauma call (depending on training experience).
Conferences
Head and Neck Tumor Board Conference
This multi-disciplinary conference meets weekly to discuss management of patients with head and neck cancer in collaboration with Radiation Oncology, Medical Oncology, Neuroradiology, and Pathology. The fellow participates in the presentation, work up, and management of patients with sinonasal and anterior skull base malignancy.
Skull Base Conference
This multi-disciplinary conference meets weekly to discuss the management of patients with anterior skull base lesions (pituitary adenoma, tuberculum/planum sphenoidale meningioma, craniopharygioma, clival chordorma) and sinonasal malignancies with intracranial extension. The fellow participates in this weekly conference with Neurosurgery, Radiation Oncology, Medical Oncology, Neuroradiology, and Pathology.
ENT in the Desert Conference
This is a comprehensive conference that draws a national audience with renowned guest speakers in each sub specialty area of Otolaryngology. The fellow helps coordinate and participate in oral and panel presentations and assist in the cadaver course instruction for the Rhinology and Anterior Skull Base section of the conference.
---
Current and Past Fellows
2022-2023 Shireen Samargandy, M.D., University of Toronto
2020-2021 Christopher Eric Bailey, M.D., Assistant Professor, West Virginia University 
2019-2020 Kyle Mitts, D.O., Rhinologist, Mercy Health, Cincinnati, OH
2018-2019 Maheep Sohal, M.D., Rhinologist, Tucson ENT, Tucson, AZ
2017-2018 Brian Song, M.D., Rhinologist, Kaiser Permanente, Fremont, CA
2016-2017 Saurabh Sharma, M.D., Rhinologist, Kaiser Permanente, Roseville, CA
2015-2016 Christopher Le, M.D., Associate Professor, University of Arizona College of Medicine
---
Requirements for Appointment
Eligible applicants are expected to be American Board certified/eligible and must be able to obtain an Arizona medical license.
---
Application Information
Interested applicants should apply via SF Match. 
---
Application Deadline
Applications are processed through SF Match. Deadlines are available on their website here.
---
Contact Information
Fellowship Directors
Eugene Chang, MD
echang@oto.arizona.edu
Office: (520) 626-6673
Christopher Le, MD
chle@oto.arizona.edu 
Office: (520) 626-6673