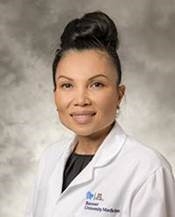 Meena Karnosky is board certified Family Nurse Practitioner in pediatrics otolaryngology. She has training and experience in emergency medicine and primary care for medically complex patients. She obtained a Master of Science in Nursing from University of Phoenix and holds a national certification with the American Academy of Nurse Practitioners (AANP) as a family nurse practitioner.
It is my goal to provide exceptional care my pediatric patients. Working as a Family Nurse Practitioner has brought me full circle back to Tucson. As this was where I began my education and training.
In her spare time she enjoys working out, outdoor activities and spending time her family.